Career Opportunities
The World Health Organization foresees a doubling of people living in urban environments in the developing world in the next 30 years from an estimated 2.5 billion to 5.2 billion (WHO 2014). The tremendous social and health challenges resulting from future mega-cities and large sections of slum dwellers will need to be addressed in terms of health services, health services providers and sufficient numbers of people trained in using forecasts, trend analyses, health scenario building and other methods to cope with the future health needs in interconnected urban environments.
Postgraduate training in Global Urban Health is therefore essential for the future health policy development and health implementers worldwide.
All major national institutions working in Development Cooperation (such as GIZ, KfW, MsF, Red Cross) and international organizations (including WHO, Global Fund, World Bank, UNEP, UNICEF) require a postgraduate Masters Degree in Public Health, International Health, Global Health or related areas (including Urban Health).
Likewise academic institutions with emphasis on Public Health, International Health, Global Health, Environmental Sciences, Urban Planning, Health Economy, Health Policy or similar areas will prefer in their staff selection candidates with a relevant Masters degree.
Ministries of Health, Social Security, Environment, Transport, Public Services and related areas in Low and Middle Income Countries prefer staff with relevant postgraduate degree for solving the enormous health problems in urban environments.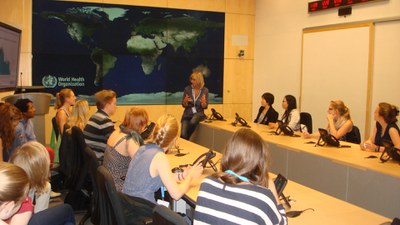 Possible Working Areas
Research and academic institutions

Scientific organisations

International organisations

Public institutions such as:

City planners

Municipalities

Public health

Environmental units

Non Governmental Organisations (NGOs)

International relations

Institutions working with Migration and refugees